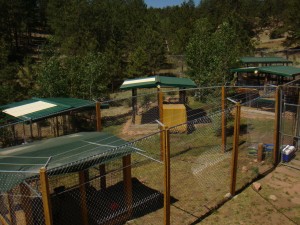 We offer interactive educational tours of The Ranch where you'll learn all about mountain lions and see their instinctive behaviors in action.  You can also take photographs of the cats during your visit to remember the occasion.
Tours are available by appointment only, last about two hours and start at $100 per person.
We are open on Saturday's between 10am and 3pm, but you need to call first and let us know you're coming.  Otherwise, you'll arrive to a locked gate.  We may be able to accommodate other times as well.  Just give us a call, and we'll work something out.
To schedule a tour, call Chris at (719) 641-4060 at least one week before your planned visit.
We and the cougars look forward to meeting you!